The Arquebuse Water was formulated and produced in Switzerland based on a 500-year-old wisdom and specifically to treat skin problems. Today, the Arquebuse Water is successfully used in Europe mainly to treat severe skin conditions, but its cosmetic benefits are becoming more and more obvious.
Useful Recommendations:
Face:
It regenerates the skin, increases natural immunity and makes your skin fresh, soft and smooth all day. It has an anti-bacterial effect making it particularly suitable for acne. It is extremely effective after any kind of cosmetic treatment and calms the skin immediately. It can be used after shaving against pimples and skin inflammation.
*
Any part of the body:
it removes body odor produced by the bacteria. It is excellent against insect bites, and has a beneficial effect on the veins, hemorrhoids, and muscle aches. This is the best product for hygienic care of intimate places.
*
Thighs, toes, soles:
By massaging the extract on your feet after your morning toilette, you will avoid swollen legs. When massaged into the thighs and leg calves it reduces leg fatigue. It keeps feet fresh and clean (smell-free) throughout the day.
*
After sun exposure:
The Arquebuse Water relieves, soothes and refreshes the skin, so it is an important ally during holidays whether in the mountains or at the beach.
*
Uses:

- Skin infections
- Skin injuries
- For insect bites and stings
- for nettle-rash
- Cold sores
- Sunburn and other burn injuries


cont...

- Freckles
- Skin restructuring
- Age Spots
- After shave toner
- After cosmetic treatments
- After waxing or permanent hair removal

Read more about using this 500 years old wisdom in
skin treatment with Arquebuse Water
Before and After photos, including the time it took these customers to achieve the desired results *
Purulent, infected wound under the mouth. Full recovery after 3 weeks

Skin ulcer - Significant improvement after 10 days
*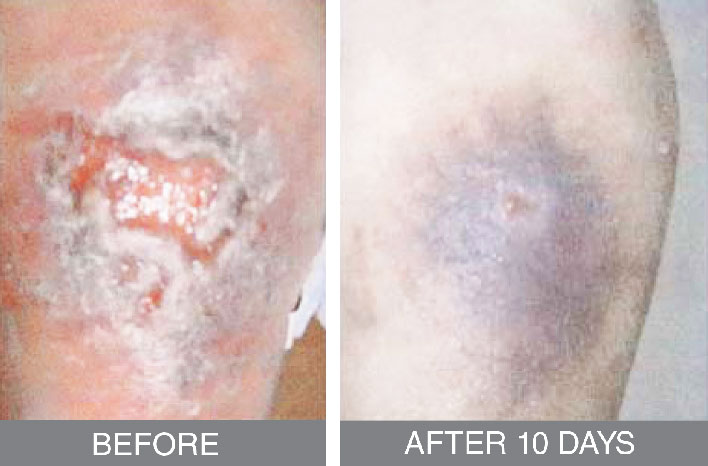 Deep, open wound - the patient was sceptical and did not record the initial stage (the "before" picture), only the two following phases photographed at 3 weeks interval
*

Read more about using this 500 years old wisdom in
skin treatment with Arquebuse Water
| | |
| --- | --- |
| Size | 100ml |
| Brand | Arquebuse |
| Product Type | Body care, Cleanse and Tone, Serums |
| Skin Type | All Skin Types, Acne/problem skin, Ageing/mature skin, Normal/Combination Skin, Oily Skin, Pigmentation, Rosacea/Fragile Capillaries, Sensitive Skin |
| Ingredients | Aqua, Aclohol 38 deg., Salvia Officinalis herba, Symptium Officinalis folium, Symptium Officinalis radix, Artemisia Vulgaris folium, Agrimonia Eupatoria folium, Verbena Officinalis folium, Arnica Montana flos, Artemisia Absinthum folium, Plantago Lanceolata folium, Scrophularia Nodosa herba, Fumaria Officinalis herba, Bellis Perenis flos, Slachys Officinalis floium, Leucontheum Vulgare flos, Foenicula Vulgare sement, Calendula Officinalis flos, Symptium Officinalis folium, Equisetum Arvense herba, Ephrasia Officinalis herba, Matriarcia Chamomilla, Globularia Punctata herba, Echinacea Angusti folia, Echinacea Angusti radix, Centaurium Oliginusum folium, Sedum Acre herba, Echinacea Angusti folia, HypericumPerformatum herba, Veronica Officinalis herba, Angelica Officinalis radix, Hyssopus Officinalis herba, Lavandula Officinalis flos, Achillea Millefolium herba, Mentha Piperita folium, Gallicum Verum herba, Chelidonium Majus, Camomilla REcutica flos, Sanicula Europaea herba |
| Directions | Apply 3-5 times daily onto the skin surface and massage until complete absorption. If treating hematoma soak a soft cloth with Arquebuse Water and hold in the affected area with a compress overnight. Repeat until full recovery. External use only! Keep out of reach of children. |
Frequently bought together
Customers who bought this product also commonly purchased the following combination of items.
Customers Who Bought This Item Also Bought
Arquebuse Water - For skin problems Reviews