This extremely efficient, targeted wrinkle treatment serum combines two kinds of "intelligent" active ingredients (PhytoCellTec™ Malus Domestica, winner of the 2008 European Cosmetics Best Active Ingredient Innovation Prize, and Epidermal Growth Factor) with some of the best anti-ageing peptides on the market to dramatically restore the skin's youthful appearance by plumping up the fine lines and wrinkles from within.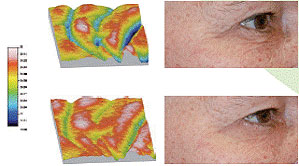 A series of groundbreaking studies and clinical trials with an emulsion containing 2% PhytoCellTec™ Malus Domestica, have demonstrated without a doubt that this formulation increased the longevity of skin cells and reduced the appearance of fine lines and wrinkles for 100% of participants!

MirApple contains twice as much of this magic ingredient and, together with its other components, helps achieve the same result after only 3 days*.

*individual results may vary

How can the MirApple serum benefit you?

MirApple was shown to deliver these impressive results after only days of use:
Protect the longevity of your skin stem cells
Delay the ageing of essential cells
Reduce and prevent lines and wrinkles by actively generating new skin cells
Nourish and renew cells, keeping the skin firm and supple.
Naturally stimulate the production of collagen,which makes the skin appear plumped up and vibrant
Improved absorption through liposomal delivery
Release powerful antioxidants tofight free radicals
Brighten the skin tone, making it look full of vitality and energy
Diminish and even eliminate scars on skin by forming new skin cells
Achieve visibly younger looking skin in 2 weeks, which continues to improve with use.

Thousands of fans such as Michelle Obama, Jennifer Lopez and many others cannot be wrong! According to a Vogue article, style icon and presidential wife Michelle Obama buys a $355 serum that uses the Swiss Apple miracle!

MirApple Swiss Apple Stem Cell Serum provides real, visible and lasting results with its formulation that uses effective concentrations of clinically proven active anti-aging ingredients.
For more information visit Skinov8
Size
30ml / 1 fl. oz
Brand
Skinov8
Product Type
Serums
Skin Type
All Skin Types, Ageing/mature skin
Ingredients

Active Ingredients:

PhytoCellTec™ Malus Domestica is a liposomal preparation based on the stem cells of a rare Swiss apple.

Oligopeptide-1 – Epidermal Growth Factor promotes the growth of epidermis and reduces skin wrinkles.

Trylagen - (Water(and)Pseudoalteromonas Ferment Extract(and) Hydrolyzed Soy Protein(and)Hydrolyzed Wheat Protein(and) Tripeptide-10 Citrulline(and)Tripeptide-1(and)Lecithin(and) Xanthan Gum(and)Carbomer(and)Triethanolamine(and) Caprylyl Glycol) . This is a powerful combination of active peptides and proteins that boosts collagen synthesis, gives suppleness to the skin and protects existing collagen from degradation. On a microscopical level, the improved quantity and quality of collagen is translated into significant wrinkle reduction effect.

Directions
For best results, use a hot wet towel to warm up the face before applying the MirApple serum. Gently massage into the skin and allow 10-15 minutes to absorb completely.
Questions:
There are no product questions yet.
Frequently bought together
Customers who bought this product also commonly purchased the following combination of items.
Customers Who Bought This Item Also Bought
$189.00

RRP $255.00 SAVE $66.00 (25.9%)

$39.90

RRP $45.00 SAVE $5.10 (11.3%)

$65.00

RRP $75.00 SAVE $10.00 (13.3%)
MirApple Swiss Apple Stem Cell Serum Reviews