Quite frankly, LifeCell isn't for everyone.

In fact, there is a major contraindication for using this product: if you think you've got wrinkles just because, on a rare occasion you got up on the wrong side of the bed, then LifeCell isn't for you.
LifeCell is a custom-designed formulation created especially for people who really have wrinkles and other tell-tale signs of ageing. In many cases, this unique product can not only postpone, but even elminate the need for Botox injections or cosmetic surgery for individuals whose only complaint is the appearance of lines, wrinkles, sagging skin, age-spots, under-eye dark cirkles, puffiness and "feather" lips *.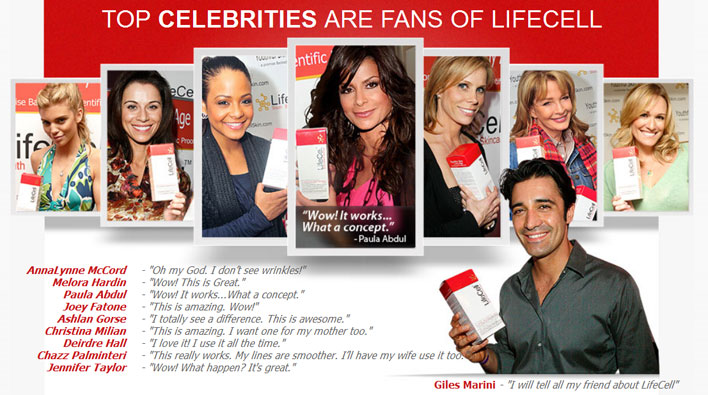 LifeCell works, but you have to use it (it's like buying a gym pass: you need to actually go there and break a sweat if you want to see results). So unless you're committed to getting rid of the signs of ageing on your face, don't waste your time, your energy or your money.

A ground breaking series of studies has demonstrated the amazing effectiveness of the active independent isolates in LifeCell. After reviewing and verifying anecdotal data, researchers noted an incredible 94% of subjects demonstrated a visible reduction in the appearance of facial-aging *.

The best part is, it simply does't matter what your age is - the actual process of eliminating lines and wrinkles will start to occur within minutes of application.


LifeCell produces a significant reduction in the appearance of both the depth & size of fine lines wrinkles. *

What LifeCell could do once you start using it:
Lifecell produces a significant reduction in the appearance of both the depth and size of fine lines & wrinkles. It is quick, safe, easy, you don't have to sell your house to afford it and women just love its 'softening effect' on the face.
24-Hour Moisturiser: Lifecell intensely moisturizes and nourishes your skin… like it has never been moisturized ever before! (Many pharmacists believe Lifecell is the best moisturiser in the world because it can penetrate through 20 skin cell layers).
Natural Collagen Stimulator: Lifecell helps stimulate production of collagen, helping lines, wrinkles and unsightly "crow's feet" look more smoothened out, lifted away. Wrinkles appear pushed up and out as though plumped from within. *
Microlifter & Firmer: Lifecell's 25,000 microlifters immediately form a network to help make your skin look tighter and firmer. *(On average, women over 40 have over 25,000 micro-points on the face which Lifecell's microlifters target).
Age Spots: Lifecell reduces the appearance of discolourations and imperfections. *
Beautiful Eyes: Lifecell increases the balance of moisture in the gentle skin around the eyes. Eyelids appear lifted, eyes look recontoured and wide-open. *
Serious Dark Circles & Puffiness: Lifecell reduces the appearance of under-eye puffiness and dark circles. *
Lip Plumper: Lips appear fuller; fine lines around the mouth appear smoothened and lip "bleed" is prevented. Your "provocative pout" remains soft, moist, seductive… all day, all night! With continued use your lips' natural colour looks restored. *
All of this, frankly, makes Lifecell arguably the best non-surgical, Botox-free, all natural treatment to quickly and furiously reverse the hand-of-time. Which means that lines, wrinkles, sagging skin, age-spots, skin discolourations, under-eye puffiness & dark circles will appear fainter and fainter, and if you use Lifecell long enough, it is possible that all these tell-tale signs will no longer even be visible. *

LifeCell is certified 100% cruelty-free by PETA (People For The Ethical Treatment Of Animals).
Size
75ml / 2.5 fl oz
Brand
Lifecell
Product Type
Eye Care, Moisturisers, Serums
Skin Type
Ageing/mature skin, Dry Skin, Normal/Combination Skin, Pigmentation, Rosacea/Fragile Capillaries
Ingredients

Water (Aqua), C12-15 Alkyl Benzoate, Butyrospermum Parkii (Shea Butter) Fruit, Butyrospermum Parkii (Shea Butter), Hydroxyethyl Acrylate/Sodium Acryloyl Dimethyl Taurate Copolymer, Cetearyl Alcohol (plant derived), Silicon Oxide, Titnium Dioxide (CI#77891), Glycerin (plant derived), Cetearyl Glucoside, Iron Oxide (CI#77491), Thioctic Acid (a-Lipoic Acid), Tetrahydrobisdemethoxydiferuloymethane, Spilanthes Acmella Flower Extract, Retinol (Vitamin A), Malus Domestica Fruit Cell Culture Extract, Magnesium Ascorbyl Phosphate (Stabilized Vitamin C), Glycine Soja (Soybean) Oil, DMAE (Dimethylaminoethanol), Cupric Carbonate Hydroxide (Mala'Kite), Caprylic/Capric Triglyceride (plant derived), Phenoxyethanol (Preservative), Tribehenin, Ceramide 2, Ethylhexyglycerin (plant derived preservative), Squalane (plant derived), PEG-10 Rapeseed Sterol, Hesperidin Methyl Chalcone, Steareth-20 (Plant Derived), Retinyl PaImitate (Vitamin A PaImitate), Palmitoyl Tripeptide-5, Acetyl Hexapeptide-3, Cholecalciferol (Vitamin 03), Dipeptide-2, Palmitoyl Tetrapeptide-3, Polysorbate-60 (Plant Derived), Palmitoyl Oligopeptide-70, Ubiquinone (Coenzyme CHO), Palmitoyl Oligopeptide, Palmitoyl Tetrapeptide-7, Tocopherol (Antioxidant), Avena Sativa (Oat) Kernel Extract, Tocopheryl Acetate (Vitamin E Acetate), Sodium Hyaluronate, Beta Carotene, Ascorbyl Palmitate (Vitamin C Palmitate)

"Botox® is a registered trademark of Allergan, Inc.

Directions

To activate LifeCell and release its key ingredients, warm a small amount between your fingertips.
As you apply onto clean, dry skin, you will instantly feel the soothing effect of LifeCell Smooth over face, fragile eye area, lips, neck and decolletage starting at the hairline, working down the neck, decolletage and up behind the ears.
Use sparingly, as LifeCell is a concentrated formula
LifeCell penetrates immediately, leaving your skin looking youthful, smooth and silky.
Apply morning and evening
Questions:
There are no product questions yet.
Frequently bought together
Customers who bought this product also commonly purchased the following combination of items.
Customers Who Bought This Item Also Bought
LifeCell All In One Anti-Aging Treatment + FREE Gift Reviews
You may also be interested in the following product(s)
$25.00

RRP $38.00 SAVE $13.00 (34.2%)